Terry's Kitchen ArtSorrento Cooking School Sorrento
Ciao, I'm Terry and I have been lucky to be born in a place where good food is a must: Sorrento I grew up cooking with my grandmother and my mother...they have been teaching me how to respect every fresh ingredient.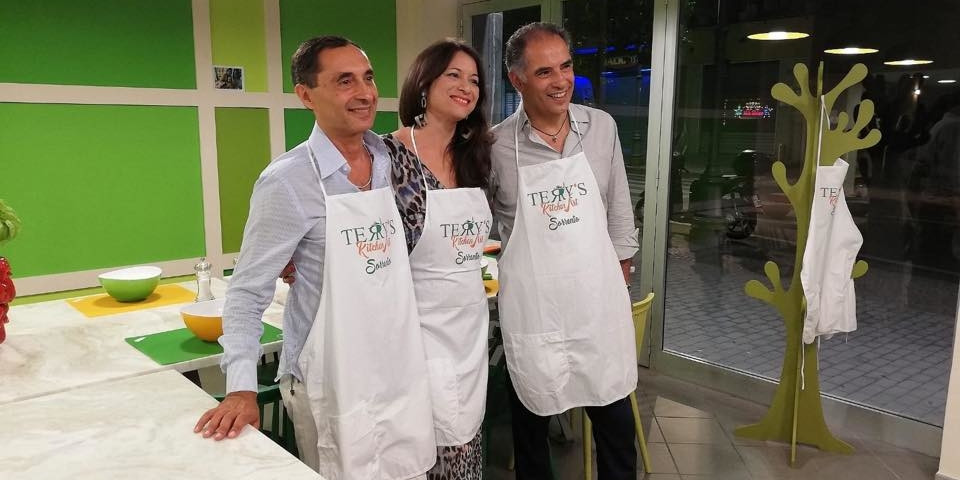 Firstly specialized in history and archeology, ten years ago I decided to give cooking classes: I felt necessary to transmit my passion! Today I give cooking classes in a familiar and relaxed atmosphere in the city center. I only use local seasonal products, thus creating different menus through the year Starting from scratch, you will make fresh pasta, gnocchi, pizza, lemon tiramisu and much more, drinking a glass of local good wine: You 'll love it! At the end you'll savor the result of your work!
What are you waiting for? Should you be too lazy..... I can come to your Villa for an even more exclusive cooking lesson for you and your party! So just relax and enjoy your homemade Italian menu, Terry will take care of you.Where you can find me? I am located in the heart of Sorrento, a few steps from the main square. The ambiance is colored and cured .... you will be merged in a colorful & friendly atmosphere. Indoor Wide space with long marble tables where you will prepart different dishes a fully equipped professional kitchen A corner shop where you can buy selected local products
Outdoor:
A pretty garden where : To relax , enjoying your glass of wine or prosecco Lunch or dinner will be served (depending on the weather ) Cooking Class (30 people max) This is a hands on cooking class where you eat what you make At the arrival, you'll be given an apron before starting the work Terry will guide you, step by step, into the secrets of the traditional italian recipes Starting from scratch you'll make tasty dishes, never leaving your glass of good wine During the class you will acquire a complete knowledge about every single ingredient After the preparation of the dishes, you'll have lunch or dinner in the garden or inside Mineral water and wine will be served during the class At the end of your meal you will enjoy a glass of limoncello Possibility to buy local products Vegetarian dishes available Terry will take under consideration any allergy
Class Info
4 courses/menu
Starter, main course, second course, dessert Mineral water, wine and limoncello included
Duration : 3hrs up to 4hrs
Different menu options
Pizza School Available
Basis Menu
Grilled mozzarella cheese in lemon leaves
Fresh pasta with neapolitan ragù
Eggplant(aubergine) parmigiana or neapolitan
meatballs
Lemon tiramisu
*Vegetarian or celiac dishes