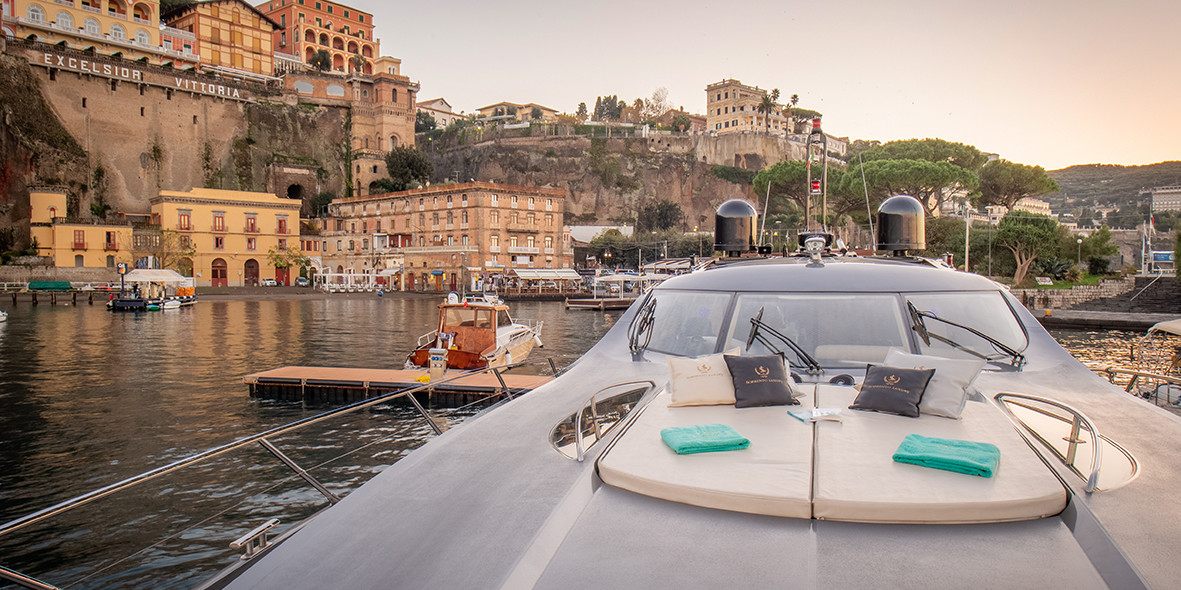 Our Mission
Our mission is to reinterpret the Italian style through design, production, and marketing of our products and services.
Ceo
Roberto Lauro, CEO and founder, has always had a dream: to share his passions and his love for life and for the sea and his positive life style with his friends.
After having sailed for a long time on cargo ships and on yachts as commander, he decided to welcome people who come to visit our beautiful and precious land as a sign of friendship. He founded Sorrento Luxury in 2013 with a team of excellent people rich in values ​​such as Loyalty, Gratitude and Love for themselves and others.
With a lot of work, studies and certifications, Roberto did it and now our company always does its best to enchant, amaze and make our guests on vacation free of thoughts, so choosing us every year and becoming friends.
Sorrento Luxury
We offer transfer services by land and sea 24 hours a day, full-day boat excursions, cruises and mini-cruises in exclusive yachts, helicopter tours and water games and much more to make you live a unique and inimitable experience in the Mediterranean.
Our dynamic company is composed of a young and highly qualified team in terms of certifications and skills, ready to assist you 24 hours a day throughout the organization of the holiday: from arrival with a car transfer service from the airport/ station, to the organization of local experiences that will enrich your stay, to the end of your holiday. Our aim is to offer the perfect experience guaranteeing a worry-free vacation.
If you rent your boat with crew you will have to do nothing but let yourself be guided through the enchanting scenery of the Gulf of Naples and the whole Mediterranean and live incredible experiences at the discovery of Capri and the Blue Grotto, visit the Amalfi Coast by boat, the magnificent islands of Ischia, Procida, Ventotene, Ponza and much more.
You can leave from any port in Italy and Europe, in particular, we specialize in departures from: Sorrento, Naples, Sardinia, Sicily, Cinque Terre, Greece.
A yacht charter is a must for whom is looking to discover and explore the several wonders of this area.
With a cruise experience you will wake up every day in a different place, admire unique scenery, enjoy different local dishes, reach small pristine coves with tender and enjoy magnificent sunsets over the sea.
We care and respect our Guests and this is the reason why they return year after year, and why We continue to welcome on board new guests from around the globe every summer.
We offer tours to individuals, as well as small and large groups. We have organized important corporate events and incentive holidays for companies and brands such as Bulgari, Toyota, Huawei and we believe that the secret of success is to organize the guests' holiday as ours could be.
We pay attention to every single detail in order to ensure maximum efficiency and quality.
Achille De Martino
I am friendly and helpful to our customers and to my colleagues. My passion for the sea has accompanied me since I was a child, the same passion that I try to convey to our guests and to the people I meet during their holidays on board our prestigious boats. My priority is to satisfy, please and reward those who choose us, gratifying with all of myself those who help us grow as a company. I want to be honest and I want you to know that our job is not a real job but it is a pleasure, in fact working well for me means reaching my goals or to entertain our guests making the time they invested with us a happy precious memory.
Damiano Mastro
I am Damiano Mastro, I am 20 years old and I am a student commander. I have been working for this splendid company for five years. I love this job because it combines two of the things I love most: the sea and meeting new people. Every day I take care of the preparation of the boat so that it is impeccable in order to make the customer feel at home and above all satisfied for having preferred us. In addition, I try to convey all the love I have for this land through explanations, anecdotes and legends. There is a great relationship with my colleagues also because they can count on me whenever they need it. I love to take care of relationships with people who initially arrive as customers and then leave as friends!
Donatella Ochoa Rodriguez
My name is Donatella Ochoa Rodriguez, I am 26 years old. I was born and raised in Sorrento, I studied at the tourist institute San Paolo in Sorrento and I graduated in linguistic and cultural mediation at the University of Naples L'Orientale. I have been working at Sorrento Luxury since December 2019 and I am happy to be part of this wonderful team of young people linked by a strong love for our country and the desire to share it with people from all over the world. I love my job and the possibility to meet new people everyday and assist them in the organization of their stay in Italy with our services through unique experiences. I like to listen to the customer, understand his needs and guide him during his stay knowing that he will forever carry in his heart a part of us and our beloved land.
My name is Antonino Ruggiero, I am 34 years old and I was born in Piano di Sorrento, a small village near the beautiful Sorrento. For a long time, I have been involved in accounting, my past experiences, as well as studies, are related to this area. I started my work by practicing in the studies of various accountants, then in a travel agency and for almost 4 years I carry out the job of accountant for Sorrento Luxury Srl, prestigious and renowned charter company of Sorrentine peninsula. Among my working skills the capacity for organization and collaboration with others stands out; and I consider myself a person always ready and willing to help the next in case of any problem or need. Other aspects of my character are friendliness, resourcefulness, laughing and joking; all features that I use in the relationship with my teammates and with customers of Sorrento Luxury as well, in order to leave a good memory for the pleasant and fun moments lived together.
Please contact us for further information. We will be happy to custumize your experience according to your needs.