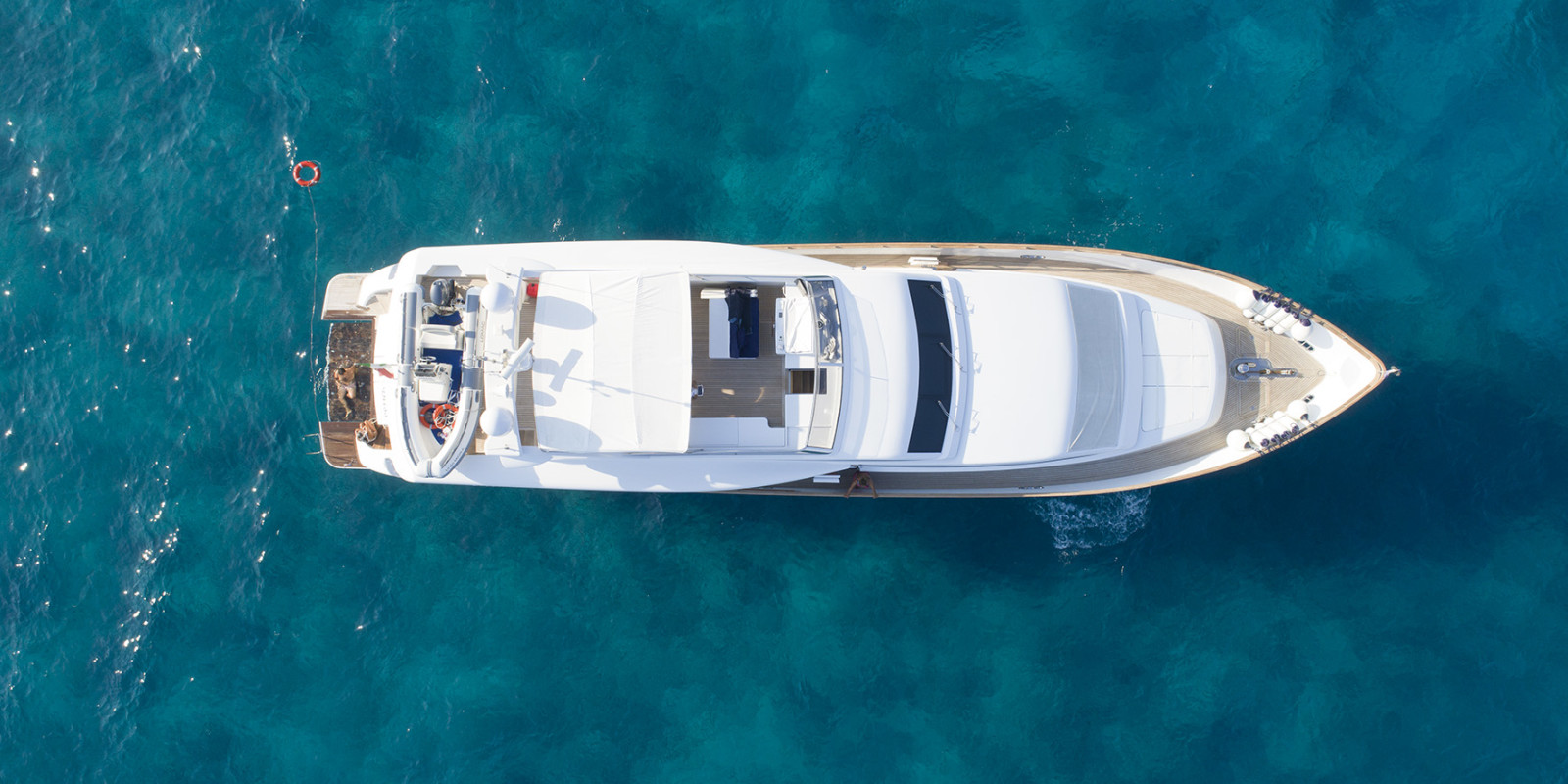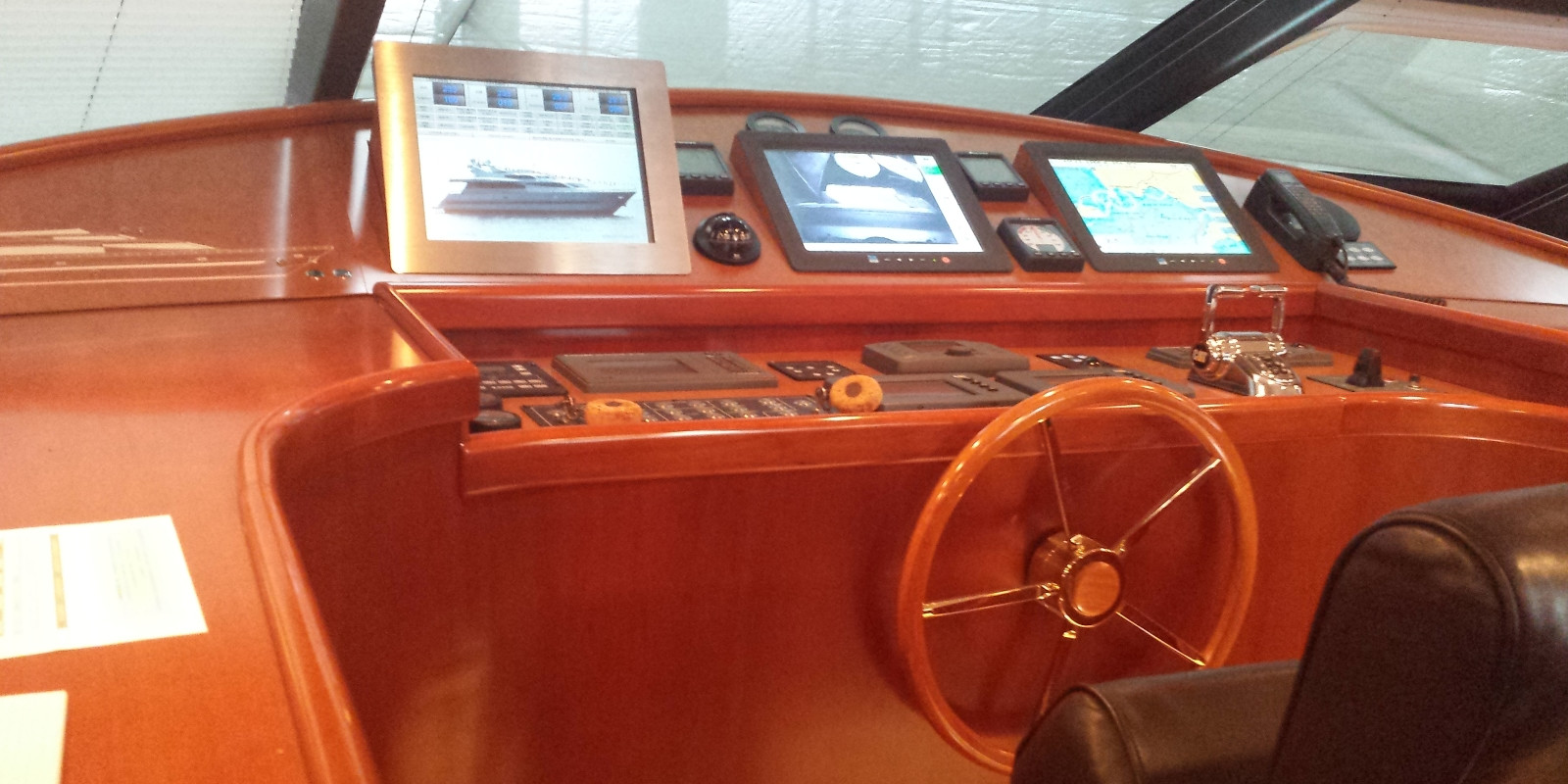 Access on board through a comfortable walkway in the aft area, from where you enter the aft cockpit where you find a comfortable dining / dinner table with a capacity up to 10 people. From here you enter the large internal lounge through an automatic sliding door completely made of glass. In this area there is a large sofa in the shape of an elle and one more small 2-seater. Continuing towards the bow you can find a large dining table for 10 people.
Moving forward towards the left side you cross a small corridor which leads to the wide one kitchen with peninsula and equipped with 6 induction burners and everything you need to prepare tasty typical international dishes. On the straight side instead you cross a second corridor which leads to:
From the stern you can also access the Fly Bridge (there are 2 stairs to access, one from the aft cockpit and one from the bridge). Here you will find a very comfortable table with sofa for at least 12 people and, if necessary, convertible into a large sundeck; a second sunbathing sofa is present in front of the dining table. If necessary all this can be protected from the sun with a large folding awning. In the rear area of ​​the Fly Bridge you will find a 4.80 m tender with outboard engine that will be lowered into the sea by the crew with a powerful crane on the bridge. Forward there is a large minibar cabinet with inside a practical charcoal barbecue and a sink.
Nearby is the second bridge external control with all the instruments for navigation and maneuvers in ports.
On the lower deck (in the middle of the boat and under the main hall) there is the engine room equipped with 2 Caterpillar engines of 1825 hp each, 2 Koheler generators of 27 Kw each, 2 watermakers to produce a total of 500 liters of fresh water per hour, refrigeration and air systems
conditioning.
At the far stern (on the lower deck) youo will find the crew area equipped with 3 cabins (2 doubles and one single), 1 bathroom and 1 separate shower.
Finally, on the extreme stern of the yacht, there is a very comfortable platform with ladder from bath, and a part of it can be completely immersed in the sea up to a depth of 80 cm, so that if necessary it can become a real "beach" by immersing it for only 10 cm.
The main bridge of the yacht, equipped with all the most sophisticated systems for navigation
The service bathroom available to guests on the main deck
The sleeping area reserved for guests
The guest area on the lower deck has 4 comfortable cabins (2 double and 2 twin), all of them equipped with air conditioning, private toilets and showers.
Returning to the aft cockpit deck you can access the external corridors to move to the bow area, where you can take advantage of a comfortable sundeck for 4 people.
Brief description of the crew members
Luigi Conte Commander of the unit, from the Island of Ischia (NA), 54 years old, of which over 36 spent in the sea ​​in command of ships and various boats used for pleasure and rental and 3 of which in quality as a non - commissioned officer of the Coast Guard in the duties of Commander of patrol boats in service of Maritime Police and search and rescue at sea Sar (Search and Rescue). Spoken languages: Italian and English
Eduardo Rabbito Deck officer and shipboard cook, from Pozzuoli (NA), 27 years old, at
fourth season of boarding this unit. Extremely helpful and discreet person, very good and creative in kitchen creations. With him you will taste typical Mediterranean dishes and not only. Spoken languages: Italian and English
Filippo Ferrandino Official deck student, from the island of Ischia (NA), 26 years old, to the third boarding season on this unit. Coming from a family of experienced sailors, he continues
with honor what he learned at sea since he was a child. Humble person and very competent for all that concerns the charter service thanks to previous experience in this sector. Patience e discretion are just some of its many qualities. Spoken languages: Italian, English and a little bit of Spanish.
Tiziana Boccone Hostess on board, from Castel Volturno (CE), 44 years old, graduated in languages ​​and foreign literatures. First year of boarding this unit. Decennial experience in tasks
as head of interiors on board. Very accurate both in appearance and in the preparations at the tables
and in the care and cleaning of the cabins. Always smiling and a very kind person.
Spoken languages: Italian, English, Arabic, French, Spanish and Portuguese
Caratteristic
| Model | Diano 29 |
| --- | --- |
| Costructor | Cantiere navale Diano |
| Engines | 2 x 1825 cv Caterpiller |
| Max speed | 38 Kn |
| Lenght overall | 23,90 |
| Maximum beam | 6,03 |
| Safe capacity people | 12 |
| cabins | 4 |
| wc | 4 |
| Kitchen | 1 |
| Crew | 2+2 |