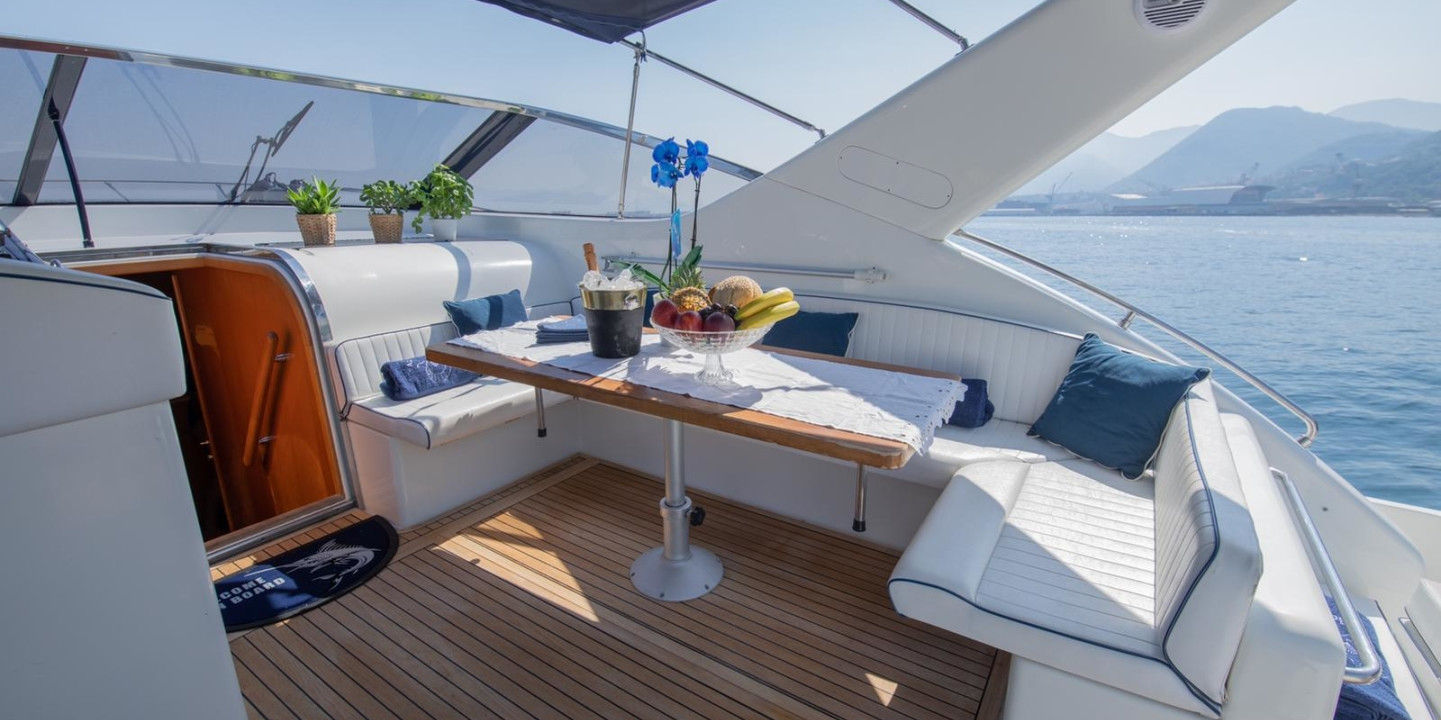 Uniesse 48 Open, designed by Fred Hudson, presents timeless lines with the strong sporty appeal of the fischerman but with considerable comfort in navigation and refined interiors that are not stiff at all. Overall, the compromises needed to meditate between practicality and comfort are acceptable.
When you climb aboard the Uniesse 48 Open you notice a huge stern beach on which it is possible to host the tender and the catwalk in the center of the transom. The fast cruising speed is about 30 knots at less than 2000 rpm and the maximum close to 35 knots with engines close to 2,200 rpm.
These data, combined with an optimal hull behavior for stability in tack and agility in the passage on the wave, make the 48 Open an interesting boat for those who want to navigate even in difficult conditions.
As regards to the exterior, the designer must be recognized as having adopted the most practical solutions, starting from an effective command post with excellent visibility, a comfortable and at the same time cozy external dinette, equipped with an easy-to-use external kitchen block use and a cockpit not huge but still functional.
In the interiors, the organization of the spaces is rather traditional with two guest cabins, a double one and a twin-bedded one, positioned on the sides of the staircase with the shared toilet room located beyond the dining - kitchen area.
This room and that of the owner's private services are symmetrical and placed between the dinette and the master cabin. For the cladding materials, the shipyard's proposals for the essences are two versions of tanganika walnut: light shades. People can comfortably relax during their tour.
At the bow there is a large sunbathing area where you can comfortably lie down and sunbathe both during navigation and when the boat is stopped in the wonderful coves of the coast.
Caratteristic:
| Model | Uniesse 48 |
| --- | --- |
| Costructor | Uniesse Marine |
| Engines | 2 x 610 hp volvo penta |
| Max speed | 32 Kn |
| Lenght overall | 13,8 mt |
| breadth overall | 4,39 mt |
| Water tank | 600 lt |
| Fuel tank | 2x1100 |
| Safe capacity people | 12 |
| cabins | 2 |
| wc | 1 |
| Kitchen | 1 |
| Berths | 4+ (2 for crew) |